Southside gymnast Lois Anderson has become one of the youngest competitors chosen to represent Scotland at the British NDP Tumble Championships after being sponsored by Shawlands-based restaurant Loks Bar and Kitchen.
Lois, 9, a P5 pupil at The Gaelic School in Glasgow, was selected for the national squad at the event in Birmingham's Barclaycard Arena after winning a silver medal at the Scottish qualifiers earlier this year.
Although Lois missed out on a medal, finishing 14th overall, it was a useful building exercise which, she hopes can help her better her performance at next year's event.  
"It is an exciting and fast paced discipline to watch," said dad, Mike: "Competing at the British Championships was an incredible experience for Lois, which Loks Bar and Kitchen helped to make happen.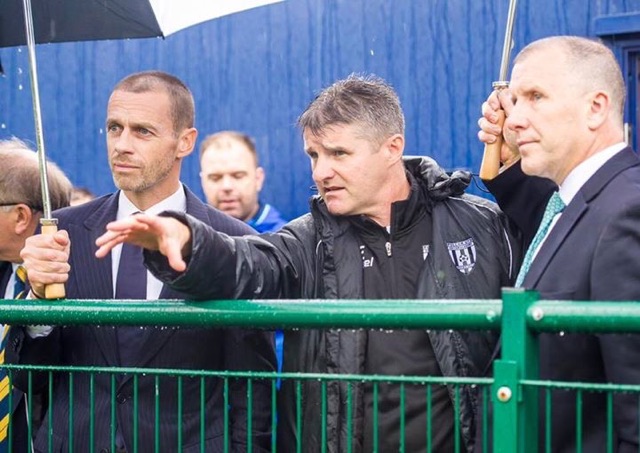 Pollok United has been recognised for its contribution towards the development of grassroots football with a visit from one of the sport's most influential figures.
Aleksander Čeferin, the president of UEFA, paid a visit to the club's training facilities at Corkerhill to see, at first hand, the quality of its coaching and training.
And there was further good news for Pollok United Soccer Academy this week when Loks Bar and Kitchen, a sponsor of the senior club, announced that it is to supply players and coaches for the 2006 squad with their full kit and training gear for the next two years.
Phillip Reilly, who owns and manages Loks, in Newlands, with his wife Grace, said he was delighted to be associated with such a successful club.